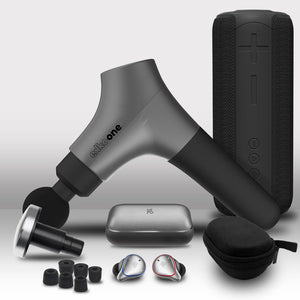 Limited quantities available! The perfect gift for casual and professional athletes alike, our holiday bundle keeps athletes moving. Our bundle includes 6 of our most popular products:
1. The Mifo O5 Plus Gen 2 Smart Wireless Earbuds in Metallic Grey - $119.99 $99.99 

Our best selling wireless earbuds for active movers with over 4,000 5-star reviews. Including cutting edge features active movers need to keep them motivated. Read the full feature list
2. Airfome Memory Foam Ear Tips - $29.99 $9.99 

Smart, antimicrobial memory foam ear tips enhance sound, block noise, and create a comfortable yet secure seal for hours of pain free listening. Pack includes 3 sizes of memory foam ear tips.
3. Airfome Ultra Durable Carrying Case - $14.99 $9.99 

Keeps Mifo O5 Plus Gen 2 wireless earbuds and accessories safe and secure. The semi-rigid shell can withstand drops, moisture exposure, and being thrown into a gym bag without damaging contents.
4. The Ekko One Percussion Massage Gun - $179.99 $149.99 

After the workout is done, enjoy percussion recovery therapy used by professional athletes and sports medicine physicians the world over. Includes everything needed for faster recovery. Read the full feature list
5. Ekko Heat Massage Head - $29.99 $19.99
NEW
The latest addition to the Ekko One percussion massage gun adds self-powered heat to soothe muscles and speed recovery. Simply plug and play with any Ekko One massage gun.
6. Sonictrek Go XL Waterproof Bluetooth Speaker in Matte Black $109.99 $89.99 

The most powerful waterproof Bluetooth speaker in its class, the Sonictrek Go XL will keep the music playing during long workouts or group exercise environments.
Read the full feature list